Charleston Car Accident Lawyer
Dedicated to Seeking Fair Compensation for Your Car Wreck Injuries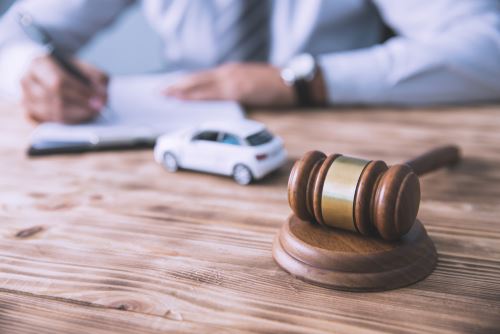 There is never a good time or place for an automobile accident, but it is often what happens after the accident that determines how devastating the impact will ultimately be. State traffic laws may incentivize safe driving, but there are still thousands of injury-causing auto accidents each year in Charleston County. While insurance requirements help provide a means for financial compensation, insurance companies are notorious for offering low-ball settlements or trying to deny claims.
With an experienced Charleston car accident attorney in your corner, you're protected against the insurance companies, corporate giants, banks, hospitals, and the government who aren't always looking out for your best interests. Without an experienced lawyer by your side, you may well find yourself victimized a second time! At Kahn Law Firm, LLP, we've been looking out for our clients from the very beginning. With decades of experience, you can rest assured that we've worked on many cases like yours and know how to proceed to get you the compensation you need to recover.
Contact us by phone at (845) 203-9990 or email us today to get started with a FREE consultation!
Why You Need a Charleston Injury Attorney After a Car Accident
If you were involved in an auto accident that was your fault or the fault of another person, it is suggested that you contact an attorney. Following a car wreck you may have to get your car repaired, visit a doctor for treatment of injuries, or be forced to miss work. A car accident lawyer can protect your rights and help you win compensation, allowing you to focus on what matters — your recovery, your health, and your family.
If you were injured in an accident that was caused by the negligence of another person you may be entitled to compensation to help cover automotive repairs, medical bills, and other costs. To get compensation, you must file a claim with the at-fault driver's insurance company, your insurance company, or both. Our team at Kahn Law Firm will assist you in conversations with the insurance company to ensure your case is taken seriously and that you are awarded the compensation you deserve.
Reasons To Choose Kahn Law Firm, LLP
We Provide Free Consultations
We're Board Certified Lawyers
We Answer Phone Calls 24/7
We Offer Weekend Appointments
We Don't Charge Any Legal Fees Unless We Win
We're Backed By over 100 Years Of Collective Experience
How Is Liability Determined Following an Auto Accident?
Sometimes, it is readily apparent who the offending party was in a car accident. However, other times assigning fault may require a lengthy investigation, court hearing or trial. In some situations, liability is shared between two or more parties.
Most auto accidents are a result of:
Ignoring traffic signs or signals
Driving too fast or too slow
Bad weather conditions
Distracted driving
Texting or using a cell phone while driving
Driver fatigue
Aggressive driving
At Kahn Law Firm, LLP, we are not satisfied with only second-hand sources. Instead, we conduct a full investigation of our own to ensure the strength of each and every case. This includes visiting the scene of the accident, interviewing witnesses, and searching out public records. By investigating each accident so thoroughly, we're often able to reach a settlement without having to file a lawsuit.
What Should I Do After a Car Accident?
Stay calm and call the police. Do not leave the scene of an accident, even if you believe you aren't at fault. Remain at the scene, call the police, and wait for them to arrive. When the police arrive, they will determine who may be at fault and write up a report – find out how you can get a copy of the police report for your claim.
Check for injuries. If you, a passenger, or the other driver is injured, call an ambulance right away.
Gather information. Get the names of the driver, their insurance information, and their license plate numbers. Take pictures of the scene, your car, and your injuries from several different angles. Write down contact information of any witnesses.
Don't admit fault. Even something as simple as saying "I'm sorry," can be interpreted as admitting fault for the accident.
See a doctor. Not all injuries show up immediately. Even if you feel fine, you should always see a doctor to make sure that you have not been seriously injured. If you do not see a doctor, insurers may think you are not injured and may deny your claim.
Contact an attorney. If you hire a personal injury attorney to handle your claim, insurers are more likely to take you seriously and settle your claim for a fair amount.
We only charge legal fees if we recover compensation, so you can be confident in our ability to deliver great results. Don't wait to file an injury claim after your car accident.
Call our office today at (845) 203-9990 to schedule your free case evaluation! Our Charleston car wreck attorneys are ready to help.
Charleston Car Accident FAQ
I Was Partially to Blame for My Crash. Can I Still Be Compensated?
Yes. Under South Carolina's "modified comparative negligence" rule, you may still recover damages in a car-accident-related lawsuit, but your award will be reduced by a percentage equal to your share of fault for the collision. For example, if you were involved in a collision and suffered $100,000 worth of damages but were found to be 20% at fault, you would still be able to recover up to $80,000 (or $100,000 less 20%). If your level of fault exceeds that of the other party, however, you will not be able to recover any damages.
How Long Do I Have to File a Car Accident Lawsuit?
Under South Carolina Code of Laws section 15-3-530, you have three years to file a car accident claim against the responsible party, whether it be for personal injury, property damage, or wrongful death. This time limit is commonly known as a "statute of limitations."
For injury and property damage cases, this "clock" begins on the day of your collision, or in the case of wrongful death, on the day of death if it is different from the day of the accident itself.
If you try to file a claim after this time limit expires, your case will almost certainly be dismissed and you will effectively be barred from recovering compensation. Since complying with this deadline can ultimately make or break your claim, it is important you get in touch with a skilled attorney as soon as possible to guard your rights.
Will I Have to Go to Court?
Not necessarily. Most car accident claims are eventually settled through out-of-court negotiations between your attorney and the opposition's insurance company. However, if the insurance company does not offer you an amount we believe is fair, or if they heavily contest your claim, a trial may be necessary to maximize your chances of securing a favorable outcome. While it is nearly impossible to predict whether or not a case will go to trial, it is best to consult with an attorney to get a good idea of your situation and understand your legal options.
How Can A Car Accident Attorney In Charleston Help You?
Although we have helped many individuals facing the repercussions of a car accident, we understand that each situation is unique, and make sure to treat each case as such. Hiring a reputable car accident lawyer is not only important for helping you receive the maximum compensation that you deserve. A car accident attorney can serve as a great support system for you during this challenging time.
A car accident attorney will help you in the following ways:
Providing important legal counsel
Informing you of all your legal options
Offering emotional support
Taking care of paperwork
Saving you time and money
Effectively negotiating on your behalf
Representing you in the courtroom
Maximizing compensation
Gathering important evidence to support your case
Without an experienced car accident attorney, you may be risking the full compensation amount that you rightfully deserve. Contact us online today to schedule a free consultation and to learn more about what our auto accident attorneys in Charleston can do to help you. Again, a skilled car wreck lawyer in Charleston can help you get the compensation you deserve.
Suggested Reading:
Don't hesitate to get the compensation you deserve. Contact us online or call us at (845) 203-9990.