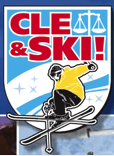 Justin S. Kahn was invited again to speak to lawyers throughout the country at the National CLE Conference in Snowmass, Colorado.
Justin discussed the practical, ethical and technical techniques for taking effective video depositions. He provided the attendees with examples, explanations and demonstrations to communicate the strategies any trial lawyer can use to improve taking depositions.

His talk covered taking a corporate designee 30(b)(6) as well as an expert deposition.
There was discussion related to the ethical considerations and lawyer civility that should be used by professionals. The relevant rules of civil procedure were also explained.
You can read more about the seminar
here
.