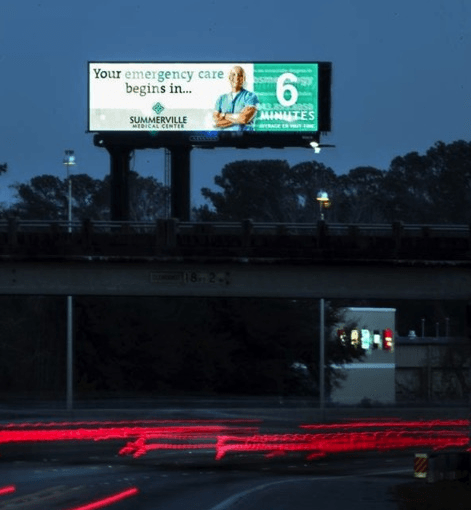 [Photo credit Post and Courier]
Those colorful billboards that morph from one image to another have drawn the attention of government researchers here and overseas looking at whether the bright, changing signs are too much of a driver distraction.
Tri-county data
Following are figures for tri-county accidents from 2010-12 in which driver distraction or inattention was a contributing factor:
Total collisions 10,514
Persons killed 23
Fatal collisions 20
Persons injured 3,833
Crashes with injury 2,599
Crashes with property damage only 7,895
Source: S.C. Department of Public Safety
In a recently released report, Swedish officials found that digital displays hold the gaze of drivers longer than two seconds. Previous studies have shown that anything that takes a driver's eyes off the road for longer than two seconds increases the risks of a crash.
Digital Billboard
The study, published in the journal Traffic Injury Prevention, will be presented to a national transportation conference in Washington, D.C.
Sweden's Transport Administration recruited 41 drivers between the ages of 35 and 55 and outfitted them with a "head-mounted eye tracker." The participants drove a Volvo V70 equipped with data-gathering gear.
"Our data show that the billboards, in fact, attract more glances than the other signs. This comes as no surprise since there is something new to look at every seventh second," the study states.
The report stopped short of saying that the electronic displays affect highway safety.
"As the drivers' glances do not appear to be drawn to the billboards invariably, it can be assumed that drivers have a choice, at least to a certain extent, whether to look at the billboards or not. If drivers consider it safe to do so, is it still dangerous?" it states.
The Federal Highway Administration allowed digital billboards for the first time in 2007 after concluding they did not pose a significant danger to drivers. But a follow-up report is pending and could be released this year.
"FHWA conducted research to look at the effects of electronic billboards that allow images to change every few seconds," said agency spokesman Doug Hecox. "Like many research reports, it was peer-reviewed and based on that, the agency determined it needed additional analysis, which is currently taking place," he said.
Digital distractions
Motorists have varying opinions on the effect of the roadside digital displays that can be found locally on Interstate 26 and Interstate 526.
"I think they are a hazard. Subconsciously, when you are driving, your attention is on the billboard," said local real estate agent Wanda Prince.
South Carolina is among 39 states nationwide that allow digital billboards, which are also subject to city and county regulation. Charleston and Mount Pleasant ban the electronic displays. North Charleston allows the conversion of traditional billboards to digital, but it does not allow new billboards unless an existing one is taken down.
"Honestly, I don't even notice them. They're just scenery. I'm more worried about what's in front of me," said Rebeccah Williams Connelly of Charleston.
Dorchester County permits electronic billboards. Berkeley County officials could not be contacted on the issue. In certain zoning districts, Charleston County allows LED message-board signs that are a maximum of 10 feet tall with an electronic message board that is no more that 25 percent of the sign area.
"We don't allow any new billboards and haven't for several years," said Summerville Mayor Bill Collins.
Digital billboards are one facet of rising concern about distracted driving. Mount Pleasant Town Council considered a ban on texting while driving and may revisit the issue this year. Clemson enacted such a prohibition in 2010.
State Rep. Wendell Gilliard, D-Charleston, is among the sponsors of a bill introduced this month to make it illegal to send or receive texts or use any form of electronic reading device while a car is in motion. Second-offense texting while driving would mean two points on a driver's license. A third or subsequent offense would be a four-point violation.
Hecox said permitting decisions for digital billboards on interstate highways are made by states, cities or counties because the structures are located outside the federal right of way.
Six-second rule
State Department of Transportation rules require that a message on a digital billboard remain fixed for at least six seconds with an interval of two seconds or less between ads. Light intensity must remain constant throughout the message display.
Figures on the number of digital billboards statewide were not available.
In Berkeley, Charleston and Dorchester counties, collisions involving distracted or inattentive driving have declined in the past three years, but about the same number of deaths related to the problem have occurred annually, according to figures provided by the S.C. Department of Public Safety.
In 2010, the tri-county total for collisions in which distracted driving was a factor was 4,585. In 2012, the number was 2,427. In 2010 and 2011, eight people died each year in accidents involving distracted driving compared with seven fatalities in 2012.
Some see inattentive drivers as a serious hazard. John Scott of Summerville said digital billboards are just one more thing to take a driver's eyes and focus off the road, in addition to cellphones, texting and tweeting.
"It's ridiculous. These are distractions that we don't need on the highway," he said.
This article is from
The Post and Courier
.