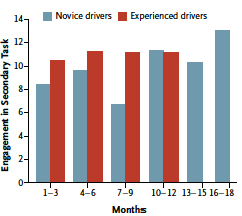 Chart Credit New England Journal of Medicine

The New England Journal of Medicine published an article today related to distracted driving and texting. The conclusion of the article: "The risk of a crash or near-crash among novice drivers increased with the performance of many secondary tasks, including texting and dialing cell phones."
One of the riskiest driving behaviors is the performance of a secondary task such as texting, eating, adjusting the radio. According to the article, estimates based on cell phone records indicate that cell-phone use among all drivers increase the risk of crash by a factor of 4.
Secondary tasks observed in the study included:
Talking on a cell phone (either a handheld or a hands-free device)
• Dialing a cell phone or other handheld device (includes the use of shortcut keys)
• Reaching for a cell phone (includes locating and answering)
• Reaching for an inanimate object inside the vehicle
• Sending text messages or using the Internet to read e-mail or Web content
• Adjusting the radio, HVAC, or other internal vehicle system with controls on the dashboard
• Adjusting controls other than those for the radio or HVAC (e.g., windows, seat belt, rearview mirror, or sun visor)
• Looking at a roadside object (e.g., a previous crash or highway incident, a construction zone, a pedestrian, an animal, or other known or unknown object)
• Eating (with or without utensils)
• Drinking a nonalcoholic beverage from an open container with or without a lid, straw, or both
Source: Sheila G. Klauer, Ph.D., Feng Guo, Ph.D., Bruce G. Simons-Morton, Ed.D., M.P.H., Marie Claude Ouimet, Ph.D., Suzanne E. Lee, Ph.D., and Thomas A. Dingus, Ph.D. N Engl J Med 2014; 370:54-59January 2, 2014DOI: 10.1056/NEJMsa1204142